SPRING/SUMMER 2012

Extract written by:
Geraint Hughes

Swyddog Datblygu Amgylchedd Cymru - Canolfan Eco Cymru
Environment Wales Development Officer - Eco Centre Wales
"At time of writing this it is midsummer, although you would never guess; I don't think anyone has told the weather, it is the least like summer weather imaginable as I arrive at the Caban y Cwm café in Cwm Y Glo and a very welcome panad.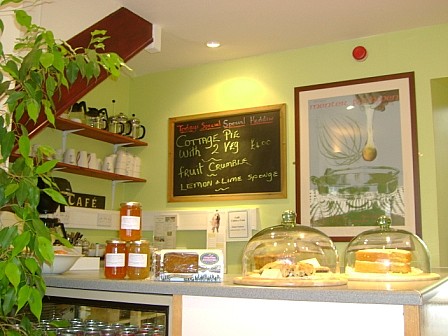 I have presents to lift the gloom and bring smiles to the faces of the staff, volunteers and if creatures do smile; to their faces also, as I have a bug log and a bat box to provide some shelter from the elements.
I met Kate Toms and drove up through the woods on the side of Llyn Padarn, the rain is falling in belting fat drops, heavy in the warm humid air, monsoon like and not showing any sign of stopping. We reach the Menter Fachwen site in the middle of a Welsh oak woodland with views I am told on a clear day of Snowdon, but even in the rain it's a fantastic site with a superb atmosphere.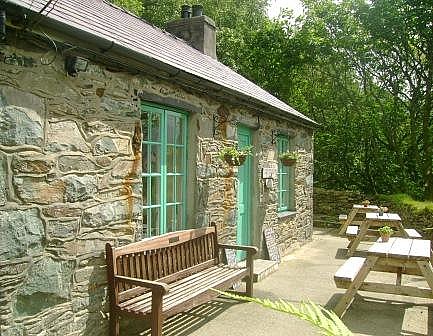 This is the site of Caffi Padarn, run by volunteers and staff from Menter Fachwen to provide refreshments for the tourists and visitors that stop off on the Llanberis steam railway and walk up through the woodland to enjoy the wildlife and views.
It would be rude not to accept another warm welcome inside my second café stop of the day, enjoy another panad and sample some lovely homemade cake. Then, down to business, earlier in the year a family of blue tits nested in cigarette end bin outside the café and successfully raised and fledged a family. I wonder at the size of the hole that the birds squeezed through and applaud the sign noting their presence to any smoker thinking of stubbing out.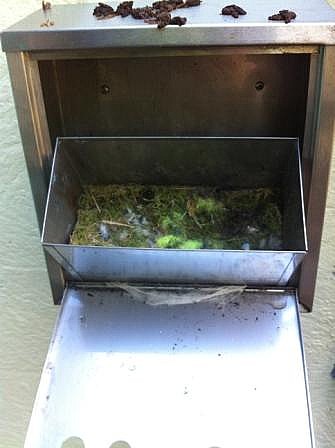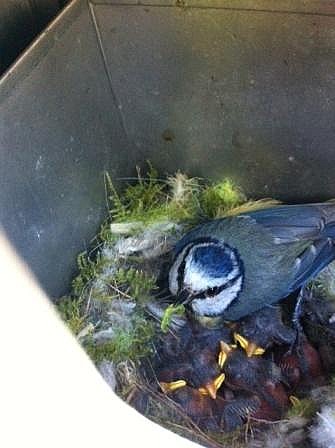 We take a quick tour, a very quick tour considering the weather, of the wood to view the woodland bird hides and hear examples of the ingenuity of the local squirrels on the nut feeders, the hides are looking fantastic and provide some shelter for walkers to enjoy the woodland birds. They were built by the volunteers and staff with a small project grant from Environment Wales; they should last for many years.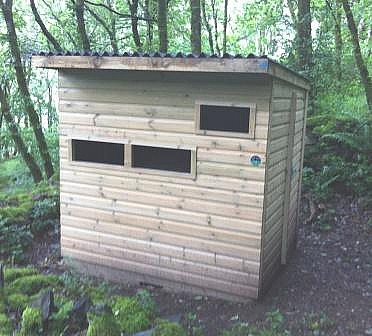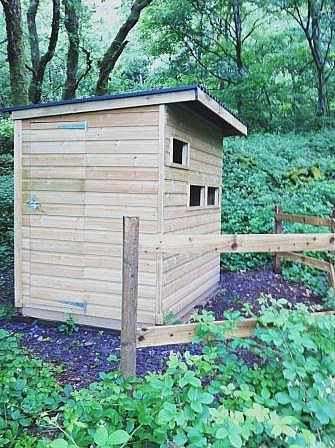 The final act was to hand over with some ceremony the bug log and bat box which with luck will soon be providing homes and shelter for the local creatures of the wood."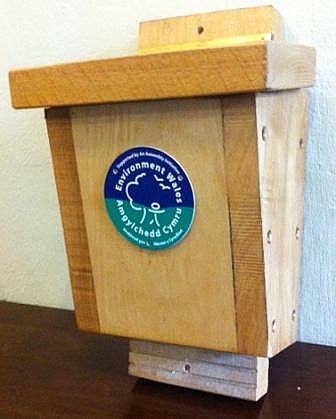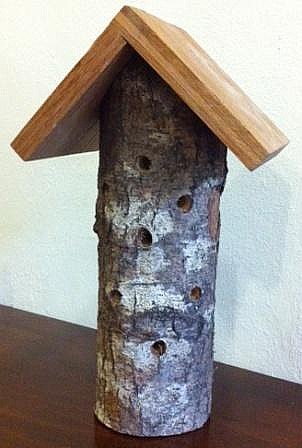 Bat Box                      Bug "Hotel"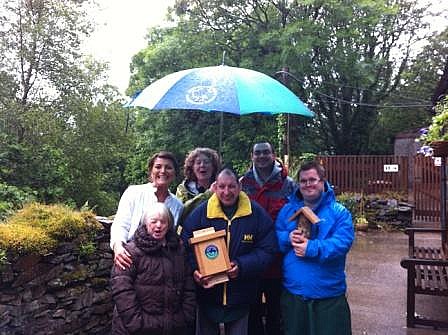 Back row L-R:  Sally - Caffi Padarn Supervisor, Kate - Chief Executive, Cemlyn - Cwm Derwen Support Worker
Front row L-R: Esther, Steffan, Drew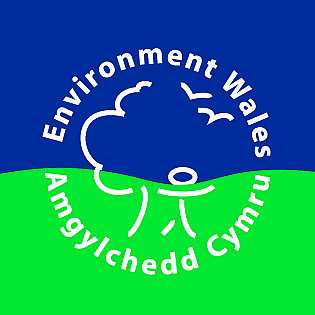 ---
News
---