BRYN PERIS, CWM DERWEN WALKS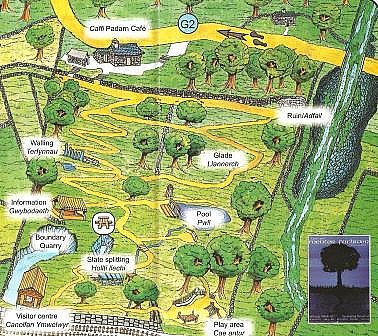 Bryn Peris, Cwm Derwen has been developed into a woodland and wildlife centre.  The woodland walk has a cafe, wildlife habitats, picnic areas, an adventure playground, interpretive displays, a slate splitting centre and loads of history to discover.  The abandoned quarry to the east of Bryn Peris was called The Shelton & Greaves, named after two entrepreneurs from England who came to make their money in slate in the 1830's.   This quarry was shortlived but John Greaves went on to make his fortune by establishing the famous Llechwedd Quarry in Blaenau Ffestiniog.  The quarry at the bottom of Bryn Peris was called the Boundary Quarry and was worked in the early 18th century.  Quays built for both these quarries at the lakeside were obliterated when the railway was built in the 1840's but tracks from Shelton & Greaves' quarry can still be made out in the overgrowth.


Click here for details of our on-site Padarn Cafe.

---
News
---